RFID PROTECTION & WHY YOU SHOULD CARE
Unfortunately, credit card theft has become a common danger in our technologically advanced society. There are multiple ways thieves attempt to capture your information including mail theft, skimming, and RFID scanning. One of the more common methods is skimming where a thief places their skimming device on a credit card reader, like an ATM. Once you slide your card to complete a transaction, the thief will attain your credit card information.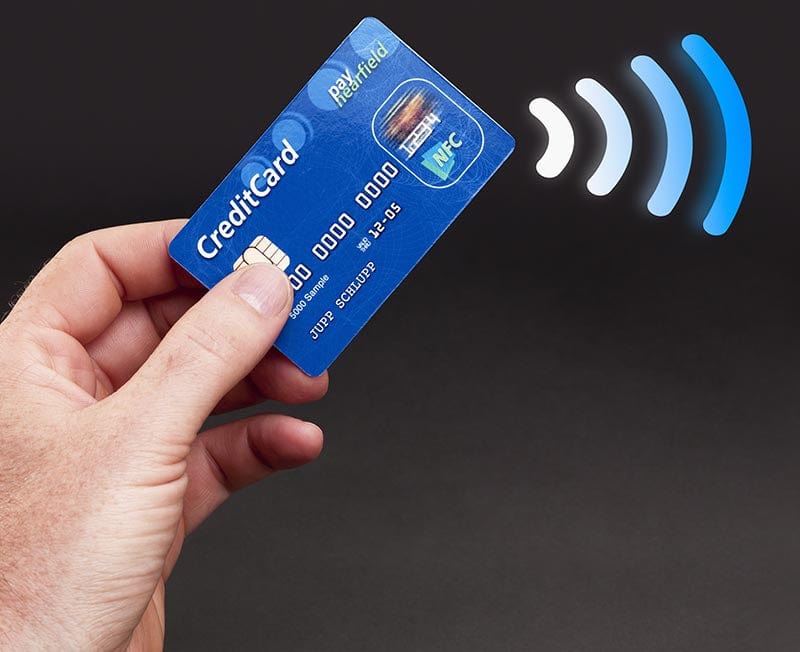 RFID SCANNING
Another, less common danger is RFID scanning. RFID stands for Radio Frequency Identification, which is embedded in credit cards and enhanced IDs through the card's built in antenna. The antenna allows data to be wirelessly transferred (or read) via electromagnetic fields.
Safeguarding yourself against RFID scanning, which involves the use of powerful portable RFID scanners to intercept card information while they are still in your pocket, is a prudent measure. These scanners, potentially concealed in a stranger's backpack on the street or in a local coffee shop, utilize radio waves to capture your data. The concerning aspect is that the scanner doesn't need direct contact with your card to extract the information. Fortunately, most credit card details are encrypted, meaning that only highly skilled thieves with access to a government database can decrypt the numeric sequence into usable data. Although instances of this type of identity theft are rare, it is advisable to take precautions to protect yourself from RFID scanning.
RFID BLOCKING WALLET FAQ's
How do RFID blocking wallets work?

RFID protected wallets typically incorporate a shielding material, such as a metal or carbon-based lining, that creates a barrier to block electromagnetic signals. Radio Frequency Identification (RFID) technology relies on electromagnetic fields to communicate information wirelessly between a card or tag and a reader. The RFID blocking material in the wallet acts as a shield, preventing the reader from accessing the information stored on RFID-enabled cards.
Are RFID protected wallets effective in protecting against identity theft?

The effectiveness of RFID wallets in protecting against identity theft is a topic of debate. While there have been instances of RFID-enabled cards being skimmed or intercepted by unauthorized devices, such occurrences are relatively rare. In practice, the risk of RFID-related identity theft is generally considered low. However, RFID blocking wallets can provide an added layer of security and peace of mind for individuals concerned about potential risks.
What types of cards can be protected by RFID blocking wallets?

RFID blocking wallets are designed to protect contactless cards that utilize RFID technology, such as credit cards, debit cards, access cards, and some forms of identification cards (e.g., RFID-enabled passports or driver's licenses). These cards have embedded RFID chips or tags that transmit and receive data wirelessly. RFID blocking wallets help shield these cards from unauthorized scanning or skimming attempts.
Do RFID blocking wallets interfere with the functionality of contactless cards or key fobs?

RFID protection should not interfere with the normal functionality of contactless cards or key fobs. While the blocking material prevents external RFID readers from accessing the card's information, it does not impede the card's interaction with legitimate RFID readers, such as those found in stores or public transport terminals. It's worth noting that some cards may require closer proximity to the reader or direct contact to initiate the transaction due to the wallet's blocking material, but this varies depending on the card and the wallet design.
How long do RFID blocking wallets last? Do they need to be replaced or recharged over time?

RFID blocking wallets do not require batteries or charging, as their effectiveness does not rely on power. The lifespan of an RFID blocking wallet primarily depends on the quality and durability of the blocking material used. With regular use and proper care, a high-quality RFID blocking wallet can last for several years. However, it's important to note that over time, the blocking material may experience wear and tear, which could potentially diminish its effectiveness. If the wallet shows signs of damage or if you notice a decrease in RFID blocking performance, it may be advisable to replace it with a new one.
Our customer support is available Monday to Friday: 8am-3pm PST.
Average answer time: 1 Hour
Contact Us
This is my third product from Trayvax and as always they delivered! Excellent quality, would highly recommend!